Pillars of Dust Demo: Coming Soon!
Pillars of Dust Demo: Coming Soon!
Something Classic Games is excited to publish Retreaux Game's exciting new retro jrpg, Pillars of Dust. Here's some information about the upcoming demo!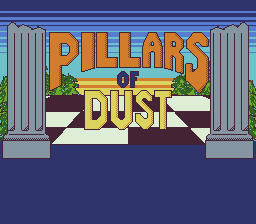 August 31 is demo release day
We will be releasing a playable demo of Pillars of Dust on August 31, 2019. We spent some time incorporating the feedback we received at Replay FX into the game, and we think you will like the results. As an example of something that we adjusted, we made movement smoother – while retaining the speed.
The demo will let you play all the way through to the end of the first dungeon for each main character, Carlton and Gregg. It's a pretty decent slice of the total game, and it will be jam-packed with secrets for the savvy explorer.
Visit our Steam page
We have created a Steam page for Pillars of Dust, which will go live on August 31. When we release the full game, it will be available on Steam for download. But starting August 31, you can start adding Pillars of Dust to your Steam wishlist so you'll know exactly when it's released – and when it goes on sale!
Reach out on social media
As always, we welcome feedback – don't hesitate to reach to us on social media if you have any questions, comments, or just want to chat. Here are some ways to reach us:
Something Classic Discord
Something Classic on Twitter
Retreaux Games on Twitter
Retreaux Games on Instagram
Use the hashtag #PillarsOfDust
That's all for now. Watch out for the next announcement on August 31!
Keep it retreaux,
Josh and Andy